ICC Chapter Update - August 2014
---
48th Annual New England Municipal Building
Officials Seminar - October 6-8, 2014
University of Massachusetts, Amherst
|
---
2014 CEO Training - Evaluating the Installation of Erosion and Sediment Control Practices - September 16, 2014
MDOT Performance and Training Center, Fairfield, Maine
Join the Maine DEP Nonpoint Source Training and Resource Center for this special workshop. Through a combination of classroom and field training we will review some common errors found in BMP installations. This workshop designed for CEOs, will provide guidance to determine whether erosion and sediment control practices are installed properly on the construction sites you oversee. Class size is limited to 40, so register early to reserve your seat.
---
Soils and Natural Resource Workshop - 9/3/14
Mount Blue State Park, Weld, Maine
The Maine Association of Professional Soil Scientists in conjunction with the Maine Association of Wetland Scientists, Maine Association of Site Evaluators and Soil Science Society of Northern New England is once again sponsoring a late summer workshop focusing on soils and natural resources. This year, the workshop will be held on Wednesday, September 3, 2014 at Mt. Blue State Park in the western Maine town of Weld, from 9:00 am until 3:30 pm.
As in the past, this workshop will combine soil evaluation with natural resource identification and regulation issues. Natural resource/soil sites to be included in the workshop are: a potential wetland in glacial till soils on a 20% slope; sandy spodosol soils (soils with a gray leached Albic horizon directly underlain by a red to black horizon of accumulation); glacial till spodosol soils; pit and mound topography soils pits on a long sloping glacial till site that are influenced by oxygenated groundwater; a stream/wetland complex and a stream/wetland/vernal pool complex in the shoreland zone of Webb Lake that will have all kinds of shoreland and LUPC zoning issues as well as a few involving NRPA.
| |
---

Job Posting:
The Town of Chebeague Island has an immediate opening for a Code Enforcement Officer. We are looking for someone to provide short-term support, and will be initiating a hiring process to fill the position long-term. The current time commitment is 10 hours per week, with a proposed increase to 12 as of July 1. The time commitment for immediate assistance is of course negotiable and we are willing to work with many different schedules. The current wage is $30/hour.
If you are interested in a short-term commitment or applying for the position longer term, please contact the Town Administrator directly at townadmin@chebeague.net or at 846-3148. A job description and application materials are available on our municipal website at
---

Job Posting: GFA International, Inc. is seeking FULL and PART TIME Building Code Inspectors, Plans Examiners, and Building Code Administrators for our Florida operations.
---
International Code Council's eNews Newsletter
May 8, 2014 - .


---
---
Energy Code Seminary - Slides and Documents
---
Newsletter of the Maine Building Officials and Inspectors Association
---
---
June 2013 issue of International Code Council's , a building science journal from the ICC Technical Services Division
---
Current issues of International Code Council's ICC eNews, a publication that discusses topics of building safety, fire prevention and sustainability.
---

Newsletter of the Maine Building Officials and Inspectors Association
---
Code of Honor Scholarship coming soon
---
ICC, NFPA Create Coalition to Advance Public Safety in the Built Environment
The International Code Council and the National Fire Protection Association Launch the Coalition for Current Safety Codes

The and the announced the formation of the Coalition for Current Safety Codes (CCSC). The coalition will advance public safety in the built environment by advocating states and municipal jurisdictions adopt current building, fire prevention, sustainable, electrical and life safety codes.

ICC and NFPA will seek broad participation in the coalition from other SDOs, the construction and insurance industries, government and the private sector to raise awareness about the importance of and steps needed to provide up to date buildings where people live, work, play and go to school. The two associations are coming together to co-chair the coalition because of a mutual commitment to public safety and in an effort to create even broader support for the adoption of modern codes and standards.

Please consider joining the Coalition for Current Safety Codes (CCSC) by visiting the new website:
---
---
---
The handout from the presentation at the September 2011 meeting is being made available if you need a copy.

---
New MBOIA logo: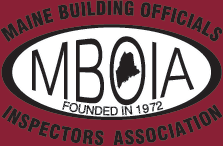 ---