Building Inspector/Code Enforcement & Health Officer
The Town of Raymond, NH (10,229) is seeking an individual to serve in a full-time capacity as Building Inspector/Code Enforcement & Health Officer. The individual will review building construction plans, issue permits, inspect work for compliance, enforcing town and state building codes, health and other ordinances, regulations, & State laws. The Building Inspector/CEO & Health Officer serves as an integral part of the development team for the Town of Raymond, serving on the Technical Review Committee and assisting the Planning Board and Zoning Board of Adjustment, when required. The position requires a high school diploma, with college education preferred, but not necessary. The individual must possess strong interpersonal and communications skills and have at least 5 years in the construction/building field, and be familiar with concepts of a municipal zoning ordinance. This individual must possess ICC certifications for Residential Building Inspector, Residential Electrical Inspector, Residential Mechanical Inspector and Residential Plumbing Inspector. It is preferred that the candidate possess ICC certification as a Commercial Building Inspector and Commercial Electrical Inspector or if not, must obtain them within 12 months of hire. A valid NH Driver's license is required. Individuals are subject to a background check. Hourly salary up to $25.40, subject to experience and qualification levels. The Town of Raymond is an EOE.
To Apply: Please fill out the Raymond Employment Job Application and send it along with a cover letter, resume and at least three (3) current references by Monday, December 5, 2016 to:

Attn: Deborah Intonti, Human Resource Coordinator
Town of Raymond
4 Epping Street
Raymond, NH 03077
Applications will also be accepted via email: dintonti@raymondnh.gov
---
Life Safety Code Enforcement/ Plan Reviewer - City of Portland
Permitting and Inspections Department - Search Re-Opened - The City of Portland is seeking a self-motivated, skilled individual to review residential and commercial building plans and issue building permits. This position reviews applications, plans and specifications for compliance with all National Fire Prevention Association and other applicable codes, including the Americans with Disabilities Act, and then issues permits for building construction and alterations. This position may conduct field inspections to ensure compliance, and works closely with property owners, architects, engineers, contractors and the general public to ensure building safety. Considerable experience in life safety code administration and the enforcement of building safety regulations; thorough knowledge of principles and practices of building construction engineering. Previous Plan Review experience preferred, as well as code enforcement experience. Must have or obtain basic State certification as a Code Enforcement Officer, Building Standards, and Certified NFPA Plan Reviewer within six months of appointment. Must have a valid State of Maine Class C driver's license, access to a vehicle for daily work use, and must have and maintain a good driving record. This position will join the new Permitting and Inspection Department and its culture of professionalism, customer service and efficiency. $864.75/week, starting pay rate. Accepting applications for this position only until Tuesday, December 6, 2016.
Permanent, full-time employees receive a generous benefits package which includes 12 ½ paid holidays; paid employee health insurance; sick and vacation leave; optional life, dental and income protection insurances; and tuition reduction programs with Kaplan University and the University of Southern Maine. Part-time employees may receive a pro-rated benefits package which may include some, but not all, of the benefits listed above.
To download the City's application form, log on to the Job Opportunities page of the City's website,
The City of Portland is strongly committed to diversity in its workforce. Women and Minorities are encouraged to apply. We are an Affirmative Action/Equal Employment Opportunity employer.
Apply at/send cover letter and resume to:
Human Resources Office, City Hall
389 Congress St. Room 115
Portland, ME 04101
tel. (207) 874-8624, fax (207) 874-8937, or email jobs@portlandmaine.gov
To apply online go to
Deadline for applications: Tuesday, December 6, 2016.
---
MBOIA September 2016 Training/ Meeting Presentation
September 22, 2016 Gray, Maine
---
Part Time Code Enforcement Officer - City of Hallowell
The City of Hallowell (pop. 2,400) is accepting applications for an enthusiastic professional to fill the position of Part Time Code Enforcement Officer. This employee is responsible for: (1) issuing building, plumbing, and demolition permits; (2) enforcing all applicable laws and ordinances governing shoreland zoning, comprehensive planning and land use, internal plumbing, subsurface wastewater disposal, and building standards; (3) conducting housing, health, and plumbing inspections; and (4) other duties, reporting, and responsibilities as required by the Planning Board, Zoning Board of Appeals, and City Manager. This is a part-time position of twenty (20) hours per week, with partially-paid benefits. Following a six (6) month probationary period, the CEO position is covered by a collective bargaining agreement.
For more information, including a complete job description and application, please visit
---
2016 Code Conference Presentations Available
---
January 2016 MBOIA Newsletter
the January issue of "The Enforcer", the official newsletter of the Maine Building Officials and Inspectors Association

---
Presentation : Official Business Directional Signs - Chip Kelley, Maine DOT
---
---
Energy Code Seminary - Slides and Documents
---
Current issues of International Code Council's ICC eNews, a publication that discusses topics of building safety, fire prevention and sustainability.
---
---
New MBOIA logo: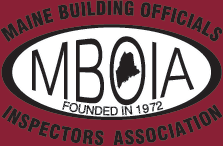 ---