2016 Code Conference Presentations Available
---
MBOIA's July Membership Training/Meeting - July 21, 2016 in Augusta


MBOIA invites you to join friends and colleagues at the upcoming Membership Training/Meeting on July 21, 2016.
---
Town of York - Assistant Code Enforcement Officer (Part-Time)
The Town of York, a coastal community comprised of the villages of Cape Neddick, York Harbor, York Village and York Beach, is accepting applications for the part-time/temporary position of Assistant Code Enforcement Officer
The Assistant Code Enforcement Officer is responsible for conducting inspections related to building, plumbing, and demolition permits; enforcing the state and municipal zoning ordinances; maintaining liaison with appropriate state and local agencies; and assisting in the maintenance of departmental records and reports. Work is performed under the general supervision of the Director of Code Enforcement with considerable independent judgment and discretion in accordance with applicable laws and ordinances. Work is reviewed through reports, discussions and results achieved.
A complete list of duties, responsibilities and requirements can be provided upon request. The deadline for applications is May 6, 2016 or until the position is filled. The Town of York is an Equal Opportunity Employer.
Town of York
Liam Gallagher, Director of Human Resources
186 York Street
York, Maine 03909
lgallagher@yorkmaine.org
---
Town of North Berwick - Code Enforcement Officer
The Town of North Berwick is seeking qualified applicants for the position of Code Enforcement Officer, Building Inspector, Local Plumbing Inspector and Health Officer. Position is responsible for enforcing the Town's Zoning Ordinance as well as reviewing all applications for building, plumbing, and electrical permits and applications for Subdivision, Conditional Use, Shoreland Zoning and any other permits as required by State and Local Law. The CEO also assists the Planning Board and Zoning Board of Appeals. The successful applicant will have previous planning, enforcement, and building trade experience and must possess a Local Plumbing Inspectors (LPI) license for interior and exterior plumbing inspections. Within one year of hiring the applicant will need to become State Certified in the areas of Shoreland Zoning, Land Use Planning, Building Standards, Legal Issues, Ventilation and Radon.
The Town of North Berwick offers a competitive salary and benefits package. Send cover letter, resume and salary history by Monday, March 21, 2016 to: Town Manager, Town of North Berwick, PO Box 422, North Berwick, ME 03906
Complete job description is available at the North Berwick Town Office or on the Town's website: townofnorthberwick.org. The Town of North Berwick is an Equal Opportunity Employer.
---
January 2016 MBOIA Newsletter
the January issue of "The Enforcer", the official newsletter of the Maine Building Officials and Inspectors Association

---
NPS Training Center's Winter/Spring 2016 Training Schedule
---
February 9, 2016 - Flood Zone Mapping and Risk: A Guide for Real Estate Professionals, Westbrook, Maine
Join Instructor, Jim Nadeau, for an educational program that provides an introduction to the National Flood Insurance Program (NFIP) and its widespread impact on risk assessment, insurance rates, real estate value, community requirements, and permitting and design decisions.
With the NFIP's increasing fiscal instability, advances in mapping technology, and policy reform, many changes are underway and will continue in the future, so it is important for all real estate professionals to be well-informed.
---
MBOIA's IECC 2015 Workshop sponsored by the Maine Building Officials and Inspectors Association - 3/9/16
MBOIA invites you to join friends and colleagues at this Membership Training/Meeting on March 9, 2016
Location: Florian Hall - Public Safety, Commerce Drive, Augusta, ME
Time: Registration: 8:00 – 9:00 am | Workshop: 9:00 – 4:00 pm
Cost: MBOIA Members (Pre-registration): Free | MBOIA Members (Door registration): $100.00/person (after 3/4/16) | Non-Members (Pre-registration): $75.00/person | Non-Members (Door registration): $100.00/person (after 3/4/16) | (With all registration options: includes continental breakfast and lunch)
Instructor: Stephen Carr, Regional Building Science Manager, TopBuild Home Services
Registration is now closed - The workshop is at capacity, no door registrations are being accepted.
---
April 10 - 13, 2016 - ESBOF Educational Conference 2016 Portsmouth, New Hampshire
The 2016 Annual Conference will be the 1st year of a multi-year program. Four (4) half day courses will be offered including Basic Building and Zoning Code Principles, Building Department Management and Building Department Human Resources Management. The following years, ESBOF will be offering and expanding this program to include different levels of experience training.
Two other tracks will, also, be offered: 2015 IRC and IBC Essentials and Life/Fire Safety Sessions.
---
MFCA's 2016 Annual Conference sponsored by the Maine Fire Chiefs' Association - 3/23 - 3/25/16
"Partners Leading By Example"
The Maine Fire Chiefs' Association will be holding a 2016 Joint Conference. The Maine State Federation of Fire Fighters, Professional Firefighters of Maine, Maine Association of Local Emergency Management, Maine Fire Protection Services Commission and the Maine Fire Service Institute will be co-sponsoring the Joint Conference.
For the first time, the Joint Conference will offer a session – "Dispatch Topics" (ISO & Protocols) on Wednesday - March 23, 2016 from 1:00-3:00pm. The Joint Membership meeting will be from 4:00-5:00pm, following an "Appreciation Social Hour" with Vendors.
On Thursday, we welcome Jim Mathis, The Mathis Group, Reinvention Nation. He will present on "Reinvention Made Easy: Change Your Strategy, Change Your Results." On Friday, we will be offering two (2) Sessions – "Apartment Inspections with the Bangor & Lewiston Inspection Representatives, and Cancer Presumption Law/Workers Comp. with Paul Sighinolfi and Nathan Jury as speakers.
Thursday night, we will be inviting you to attend a "North Peak Barbecue" at the top of the mountain. Take the "Chondola" to North Peak for a nice barbecue and networking opportunities. In addition to the training sessions, the schedule includes plenty of time to visit the Exhibitors. This Conference is always an excellent networking opportunity.
---
Presentation : Official Business Directional Signs - Chip Kelley, Maine DOT
---
ICC Chapter Update - August 2014
---
International Code Council's eNews Newsletter
May 8, 2014 - .


---
---
Energy Code Seminary - Slides and Documents
---
Newsletter of the Maine Building Officials and Inspectors Association
---
---
June 2013 issue of International Code Council's , a building science journal from the ICC Technical Services Division
---
Current issues of International Code Council's ICC eNews, a publication that discusses topics of building safety, fire prevention and sustainability.
---

Newsletter of the Maine Building Officials and Inspectors Association
---
Code of Honor Scholarship coming soon
---
ICC, NFPA Create Coalition to Advance Public Safety in the Built Environment
The International Code Council and the National Fire Protection Association Launch the Coalition for Current Safety Codes

The and the announced the formation of the Coalition for Current Safety Codes (CCSC). The coalition will advance public safety in the built environment by advocating states and municipal jurisdictions adopt current building, fire prevention, sustainable, electrical and life safety codes.

ICC and NFPA will seek broad participation in the coalition from other SDOs, the construction and insurance industries, government and the private sector to raise awareness about the importance of and steps needed to provide up to date buildings where people live, work, play and go to school. The two associations are coming together to co-chair the coalition because of a mutual commitment to public safety and in an effort to create even broader support for the adoption of modern codes and standards.

Please consider joining the Coalition for Current Safety Codes (CCSC) by visiting the new website:
---
---
---
The handout from the presentation at the September 2011 meeting is being made available if you need a copy.

---
New MBOIA logo: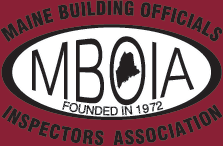 ---