2015 Code Conference Presentations & Handouts Available
---
Job Posting:
The Town of Lamoine seeks an individual to serve as the Code Enforcement Officer (CEO) and Local Plumbing Inspector (LPI). The job involves processing building and plumbing permit applications; on-site inspection of plumbing and septic system installation, construction projects and gravel operations to ensure compliance with state law and local ordinance. The CEO/LPI also advises the Planning Board and assists with that board's permitting activities. A full job description is posted on the Town of Lamoine's website, as is a job application form.
This is a part time position, consisting of regular office hours and as needed, on call inspections and attendance at Planning Board and Board of Appeals meetings as needed. It requires computer, organizational, and filing skills along with a general knowledge of municipal ordinance procedures and building practices. Applicants shall be certified by the State of Maine for both Code Enforcement and Plumbing Inspection, or able to become certified within one year of hire.
Interested applicants should submit a letter of application, resume, and salary requirements to Town of Lamoine, CEO Search, 606 Douglas Hwy, Lamoine, ME 04605. Deadline for applications is July 13, 2015. The Town of Lamoine is an equal opportunity employer.
---
Job Posting:
The Inspections Division is seeking a candidate to join a growing, dynamic team to enhance the city's quality of life and building stock by enforcing the health, safety, zoning and the Maine Uniform Building and Energy Codes (MUBEC).
In partnership with various regulatory agencies, the code enforcement officer candidate will share the responsibilities to assure uniform construction practices and applicable building safety codes; this is accomplished through field inspections, continual training and state certification requirements.
The ideal candidate for this position must possess outstanding customer service and communication skills. Experience in building trades, interpreting building plans, general inspection work, and high school diploma preferably supplemented by courses in structural, design, architecture, fire science technology, or equivalent combination of experience and training is required. Familiarity with various computer software programs including electronic plan review and laptop/ field tablet equipment.
The candidate will report directly to the Deputy Director of Inspections, with oversight from the Inspections Services Division Director, and Department of Planning and Urban Development Director.
Must possess a valid Maine Class C driver's license and have a personal vehicle available for work use. If not already, within twelve (12) months, must have successfully obtained State of Maine Certification in legal issues and techniques, internal plumbing, subsurface wastewater disposal, and building, energy, and ventilation standards.
AFSCME/CEBA CLASSIFICATION PLAN
Grade 16 (Code Enforcement Officer) - $20.91/ hour– 6 month step
Grade 17M (Certified Code Enforcement Officer) $22.58/ hour- 6 month step
For additional information, please call or e-mail, the City of Portland is an Equal Opportunity Employer.
---
Presentation : Official Business Directional Signs - Chip Kelley, Maine DOT
---
ICC Chapter Update - August 2014
---
International Code Council's eNews Newsletter
May 8, 2014 - .


---
---
Energy Code Seminary - Slides and Documents
---
Newsletter of the Maine Building Officials and Inspectors Association
---
---
June 2013 issue of International Code Council's , a building science journal from the ICC Technical Services Division
---
Current issues of International Code Council's ICC eNews, a publication that discusses topics of building safety, fire prevention and sustainability.
---

Newsletter of the Maine Building Officials and Inspectors Association
---
Code of Honor Scholarship coming soon
---
ICC, NFPA Create Coalition to Advance Public Safety in the Built Environment
The International Code Council and the National Fire Protection Association Launch the Coalition for Current Safety Codes

The and the announced the formation of the Coalition for Current Safety Codes (CCSC). The coalition will advance public safety in the built environment by advocating states and municipal jurisdictions adopt current building, fire prevention, sustainable, electrical and life safety codes.

ICC and NFPA will seek broad participation in the coalition from other SDOs, the construction and insurance industries, government and the private sector to raise awareness about the importance of and steps needed to provide up to date buildings where people live, work, play and go to school. The two associations are coming together to co-chair the coalition because of a mutual commitment to public safety and in an effort to create even broader support for the adoption of modern codes and standards.

Please consider joining the Coalition for Current Safety Codes (CCSC) by visiting the new website:
---
---
---
The handout from the presentation at the September 2011 meeting is being made available if you need a copy.

---
New MBOIA logo: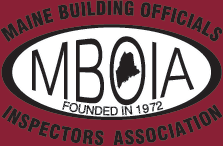 ---