2011 Archives
September 2011
International Code Council Update
---
DOE Building Energy Code Resource Guide for Policy Make
now available here.
---
2010-2011 MBOIA Board of Directors
(left to right) Kathryn Joiner, Chris Hansen, Dabney Lewis, Freeman Abbott, Secretary; Bruce Smith, Past President; Barbara Skelton, Treasurer; Mike Nugent,President; Jodine Adams, Vice President; Dottie Harris, ICC Staff;
Paul Demers
---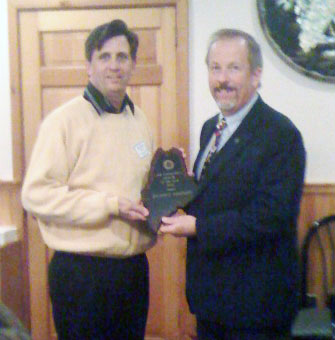 Dick Lambert receiving the first annual Code Enforcement Officer of the Year award from the MBOIA President
---
MBOIA Bylaws
---
Paint and Asbestos Regulations
"EPA Agrees to Delay Lead Paint Rules for Contractors"
Click Here for Information
Click here for a DEP prepared CEO Information Packet on both lead based paint and asbestos regulations.
---
Archives 2010
ICC Update October 2010

---
Click here for updated FAQ's on the Maine Uniform Building and Energy Code produced by the State Planning Office [3/2010]
---
The attached letter was sent out this week expressing the Association's concerns about the new State Plumbing Code and the need for municipalities to purchase a copy of it if they want one.
To read the letter, click here. [July 6, 2010]
---
Archives 2009
The Technical Building Code and Standards Board is now accepting applications for persons interested in applying for a position on any of the Technical Advisory Groups (TAGs).
If you are interested in serving on any of these groups, please fill out the application and send it to .The Board would like to send these along to the State with a letter of support, that is why we are asking for the applications to be sent to us first. If you are interested in what the Maine Uniform Building and Energy Code looks like, please volunteer to serve on one of these groups.
Request for Technical Advisory Group Members [10/2009]
Application for Technical Advisory Group Appointment
Send application to:tjnel@securespeed.us
---
MBOIA lends support to LiDAR Grant Application [11/20/09]

---
December 2009 Membership Meeting