Job Opening - Associate Code Enforcement Officer - City of Saco and Town of Old Orchard Beach (shared position, full-time)
The City of Saco and Town of Old Orchard Beach are seeking applicants for the position of Associate Code Enforcement Officer. This is a shared position between the two municipalities with roughly an equal number of hours spent in each municipality. For qualifications and duties sought, please read the attached job description. A complete application will include the completed application, letter of intent, resume, and references. Please contact MaryLou Kadlik, Human Resources Director, with any questions at (207)710-5037 or HR@sacomaine.org
---
Job Opening - Town of Lamoine - Code Enforcement Officer (CEO) and Local Plumbing Inspector (LPI)
The Town of Lamoine seeks an individual to serve this beautiful and vibrant Hancock County community as its Code Enforcement Officer (CEO) and Local Plumbing Inspector (LPI). Details of the job are posted on the Town of Lamoine's website (www.lamoine-me.gov). Salary is negotiable depending on qualifications. Candidates are asked to submit a letter of application, resume and salary expectation to the "Town of Lamoine, Board of Selectmen, 606 Douglas Highway, Lamoine ME 04605 Attn: CEO Search" - no later than Thursday, September 14, 2017. Questions regarding the position may be addressed to Stuart Marckoon, Administrative Assistant to the Board of Selectmen (207) 667-2242 or town@lamoine-me.gov
---
Job Opening - City of Waterville - Code Enforcement Officer
---
2017 AWC Summer Webinars
---
2017 Code Conference Presentations Available
---
Job Opening - Town of Durham - Code Enforcement Officer
---
Free online course: Flood Provisions of the International Residential Code
FEMA Building Science in partnership with the International Code Council is proud to launch the new online course "Flood Provisions of the International Residential Code" in celebration of Building Safety Month. For a limited time, this course will be available free of charge.
---
Building Safety Month - May 2017 Proclamation
---
Free Maine Septic and Pumping Training - April 4 & 5, 2017
Two live training classes for ENVIROFIN® - Tuesday, April 4th in Brewer & Wednesday, April 5th in Saco. Both classes have registration at 8:30am and will run from 9am-3pm. The classes are provided at no charge we just request that you register before March 31st so we may have an accurate lunch count.
It's an opportunity to learn more about the design and installation of Presby Environmental's newest tool for the septic system tool box "EnviroFin® "!
Dennis Fogg from Presby Environmental will be conducting the training. All attendees will be provided lunch and become certified to design, install or inspect this system.
---
Job Opening - Town of Norway - Code Enforcement Officer
---
Job Opening - City of Biddeford - Electrical Inspector
---
December 2016 Membership Training and Meeting - Mandated Reporting Presentation
to download the presentation.
---
January 2017 MBOIA Newsletter
to download the latest issue of "The Enforcer".
---
Eastern States Building Officials Federation 68th Annual Educational Conference, April 9 - 12, 2017, Newport RI
The program will start Sunday evening with a Rhode Island Night reception for members. An informative educational program is being put together for Monday, Tuesday and Wednesday. These will entail relevant topics with dynamic speakers. Participants will also have the option to register to take ICC exams on Wednesday afternoon.
As soon as all the speakers and their topics have been confirmed, specific conference information will be sent out to everyone. In the meantime, anyone who is planning to attend the conference is encouraged to go to the following link and make a room reservation at our discounted rate.
to make a room reservation.
Any questions should be directed to the ESBOF office at 603-228-1231 or can be directed to
---
MBOIA September 2016 Training/ Meeting Presentation
September 22, 2016 Gray, Maine
---
2016 Code Conference Presentations Available
---
January 2016 MBOIA Newsletter
the January issue of "The Enforcer", the official newsletter of the Maine Building Officials and Inspectors Association

---
Presentation : Official Business Directional Signs - Chip Kelley, Maine DOT
---
---
Energy Code Seminary - Slides and Documents
---
Current issues of International Code Council's ICC eNews, a publication that discusses topics of building safety, fire prevention and sustainability.
---
---
New MBOIA logo: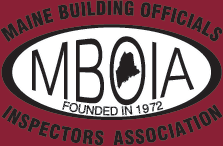 ---