Job Posting: Town of North Haven, Maine - Code Enforcement Officer
The Town of North Haven is looking for an experienced Code Enforcement Officer (CEO) who meets the certification requirements set out under Maine State law and Department of Public Safety, Office of the State Fire Marshal, regulations.
---
MBOIA Code Conference Session 1 - IECC 2015 Intro
---
MBOIA's March Training and Membership Meeting - 3/18/21
Registration is closed.
---
2021 Virtual Maine Code Conference
Register: MBOIA's Virtual Maine Code Conference sponsored by the Maine Building Officials Inspectors Association - April 16, 23, 30 and May 5, 12, 21
---
Readfield and Wayne - Code Enforcement Officer / Licensed Plumbing Inspector
The Town of Readfield and Wayne is seeking qualified candidates for the position of Code Enforcement Officer/ Licensed Plumbing Inspector. Preference will be given to applicants with Municipal or building industry experience. This position is responsible for inspections of plumbing and enforcement of all local codes and land use regulations. The Code Enforcement Officer must be or become knowledgeable of and competent in the Towns' land use ordinances/ codes and State of Maine laws, including Shoreland Zoning.
The Code Enforcement Officer is expected to carry out his/ her responsibilities with initiative, independence, and confidentiality while exercising good problem-solving skills and professional judgment. Individuals must have the ability to interact with the public professionally. Applicant must be certified or be able to become certified within 12 months. Working knowledge of Building/ Maine Uniform Building and Energy Code (MUBEC) is a plus. Computer fluency in Microsoft Word and Excel and understanding of submitted plans are required. Willing to provide some training.
This is a permanent part-time position with full-time benefits (health insurance, retirement, paid time off). Approximately 32-36 hour per week position with the potential to be a 40-hour week position (Minimum of 16 hours per week in each town). Periodic evening meetings are required.
Please send a cover letter with a resume with any applicable certifications in confidence to Wayne Town Manager, Aaron Chrostowsky, P.O. Box 400, Wayne, ME 04248 or Readfield Town Manager, Eric Dyer, 8 Old Kents Hill Road, Readfield, ME 04355. Applications will be accepted until the position is filled. For more information, you can contact the Wayne Town Manager by email at townmanager@waynemaine.org or by telephone at (207) 685-4983 or Readfield Town Manager by email at manager@readfieldmaine.org or by telephone at (207) 685-4939. Equal Opportunity Employer.
---
Town of Kennebunk - Assistant Code Enforcement Officer
The Town of Kennebunk is seeking a full-time, non-exempt Assistant Code Enforcement Officer for the Community Development Division. This position reports to the Community Development Director or designee and is a team member of the Community Development Division that includes Code Enforcement, Planning, Economic Development, and Social Services.
The Assistant Code Enforcement Officer assists the Code Enforcement Officer in the review and issuance of building, plumbing, and electrical permits; conducts building and field inspections; investigates complaints; and ensures compliance with Town of Kennebunk ordinances and building codes.
---
Presentation from Alpha One's Maine Accessibility Training in Brewer
Download slides from Alpha One's Maine Accessibility Training presentation in Brewer with MBOIA On September 19, 2018.
---
Coming Soon: 2018 MBOIA Code Conference Presentations
Session 1 - Firestopping
Session 2 - CEO Leadership
Session 3 - Design and Construction of Code Compliant Stairways
Session 4 - Development in the Flood Hazard Area
Session 5 - Tall Wood Structures, Outcome of ICC Tall Wood Ad hoc committee, 2015 WFCM Significant changes
Session 6 -
Session 7 - Design and Construction of Code Compliant Stairways
Session 8 -
Session 9 - Use of Wood and Recognition of Fire Retardant-Treated Wood in the International Codes
Session 10 -
Session 11 - Advanced Enforcement Strategies
Session 12 - Lead and Asbestos
Session 13 - Fire Resistant Construction requirements and UL Resources for Code Officials
Session 14 - Energy Code - Compliance Problems and How to fix them
Session 15 - Maine's New Accessibility: ADA and MUBEC

---
2017 Code Conference Presentations Available
---
Free online course: Flood Provisions of the International Residential Code
FEMA Building Science in partnership with the International Code Council is proud to launch the new online course "Flood Provisions of the International Residential Code" in celebration of Building Safety Month. For a limited time, this course will be available free of charge.
---
Building Safety Month - May 2017 Proclamation
---
Job Opening - Town of Norway - Code Enforcement Officer
---
Job Opening - City of Biddeford - Electrical Inspector
---
December 2016 Membership Training and Meeting - Mandated Reporting Presentation
to download the presentation.
---
January 2017 MBOIA Newsletter
to download the latest issue of "The Enforcer".
---
Eastern States Building Officials Federation 68th Annual Educational Conference, April 9 - 12, 2017, Newport RI
The program will start Sunday evening with a Rhode Island Night reception for members. An informative educational program is being put together for Monday, Tuesday and Wednesday. These will entail relevant topics with dynamic speakers. Participants will also have the option to register to take ICC exams on Wednesday afternoon.
As soon as all the speakers and their topics have been confirmed, specific conference information will be sent out to everyone. In the meantime, anyone who is planning to attend the conference is encouraged to go to the following link and make a room reservation at our discounted rate.
to make a room reservation.
Any questions should be directed to the ESBOF office at 603-228-1231 or can be directed to
---
MBOIA September 2016 Training/ Meeting Presentation
September 22, 2016 Gray, Maine
---
2016 Code Conference Presentations Available
---
January 2016 MBOIA Newsletter
the January issue of "The Enforcer", the official newsletter of the Maine Building Officials and Inspectors Association

---
Presentation : Official Business Directional Signs - Chip Kelley, Maine DOT
---
---
Energy Code Seminary - Slides and Documents
---
Current issues of International Code Council's ICC eNews, a publication that discusses topics of building safety, fire prevention and sustainability.
---
---
New MBOIA logo: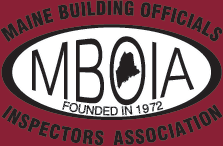 ---