---
MBOIA 10th Annual Maine Code Conference - Exhibitor Packet

Point Lookout Resort & Conference Center – Northport - May 20-21, 2019


---
MBOIA March Training & Membership Meeting
March 28, 2019 - Sunday River Grand Summit Resort Hotel
---
MBOIA Northern Chapter Training
February 20, 2019 - Brewer Auditorium
April 17, 2019 - Brewer Auditorium
May 15, 2019 - Brewer Auditorium
June 5, 2019 - Brewer Public Works
October 16, 2019 - Brewer Auditorium
November 20, 2019 - Brewer Auditorium
---
MFCA 2019 Legislative Breakfast
February 14, 2019 - Senator Inn & Spa, Augusta, Maine 04330
---
70th Annual Educational Conference
April 8-9, 2019 - Newport Harbor Hotel, Newport, RI
---
Job Opening - Town of Turner - Code Enforcement Officer/Local Plumbing Inspector
The Town of Turner (population 5,800) is seeking candidates for the position of Code Enforcement Officer/Local Plumbing Inspector. The successful candidate shall be a certified Code Enforcement Officer and Local Plumbing Inspector and be knowledgeable in land use matters. A strong background in the building trades is essential, as is the ability to read and understand site plans and building plans. The CEO is also responsible for enforcing town ordinances and applicable state laws, provides staff support for the Planning Board and Board of Appeals, is a source of knowledge and advice for residents, and must be able to communicate clearly and effectively, both orally and in writing. The CEO shall have a valid Maine driver's license and reliable transportation. A detailed job description is available at the Turner Town Office or on the town's website, www.turnermaine.com. Please forward a cover letter and resume in confidence to Town of Turner, Attn: Kurt Schaub, Town Manager, 11 Turner Center Road, Turner, ME 04282, or to manager@megalink.net, no later than January 18. The Town of Turner is an Equal Opportunity Employer.
---
LPI Subsurface Wastewater Trainings
A registration fee maybe charged through the municipality to cover coffee/lunch that the municipality will be providing. Unless otherwise noted above, payable at the door
This year we will mainly cover the subsurface rules, iapmo is doing a training at different points in maine this year, keep an eye out through Brianne. Power point training structure but open forum as well is always welcomed
The training will cover certification and re-certification of septic system installers and inspectors as well as continuing credits for lpi's.
.
---
Job Opening - Town of China - Code Enforcement Officer / Licensed Plumbing Inspector
The Town of China, Maine seeks an enthusiastic professional to fill a part-time 24 hour per week Code Enforcement Officer/Licensed Plumbing Inspector position. Experience is not required but welcomed. This position is responsible for enforcing all applicable laws and ordinances governing shoreland zoning, comprehensive planning and land use, internal plumbing, subsurface wastewater disposal and MUBEC. CEO must have a valid driver's license and reliable transportation. The town offers a generous benefits package. It is anticipated that this position will be full-time on July 1, 2019. For further information on this job opening, please visit . Please submit a cover letter, resume and hand written job application to 571 Lakeview Drive, China ME 04358 or by email to becky@chinamaine.org. Application deadline is January 18, 2019.
---
---
Job Opening: Planning Department Code Enforcement Officer, Town of Scarborough, Maine
The Town of Scarborough Planning and Code Enforcement Department is seeking an additional full-time Code Enforcement Officer to round out our Code Enforcement Team that currently consists of our Zoning Administrator and two Code Enforcement Officers. Scarborough has a significant level of development and construction activity, and our building codes and land use requirements are contemporary and comprehensive. Given this, the Planning and Code Enforcement team is looking for an individual who enjoys a fast-paced work environment, is enthusiastic and energetic, and works well with the public, to complete our team.
---
Presentation from Alpha One's Maine Accessibility Training in Brewer
Download slides from Alpha One's Maine Accessibility Training presentation in Brewer with MBOIA On September 19, 2018.
---
October 11, 2018 - Maine Mass Timber Conference: Seizing the Opportunity - Orono, Maine
Who should attend? Anyone interested in:
. The growing worldwide demand for mass timber construction,
. The two CLT companies that have announced intentions to site manufacturing facilities in Maine,
. Maine's rural communities and how these resources are poised to supply the increasing demand for urban timber structures,
. Building code and fire related issues regarding mass timber construction and/or tall wood building,
. Workforce needs of mass timber manufacturing facilities, and
. The overwhelming ecological benefits of timber construction.
A diverse lineup of speakers and attendees promise to expand our collective knowledge on this emerging technology to our region. We hope that you can join us as we work to ensure that Maine takes full advantage of this unique opportunity for our proud and historic forest products industry.
---
Coming Soon: 2018 MBOIA Code Conference Presentations
Session 1 - Firestopping
Session 2 - CEO Leadership
Session 3 - Design and Construction of Code Compliant Stairways
Session 4 - Development in the Flood Hazard Area
Session 5 - Tall Wood Structures, Outcome of ICC Tall Wood Ad hoc committee, 2015 WFCM Significant changes
Session 6 -
Session 7 - Design and Construction of Code Compliant Stairways
Session 8 -
Session 9 - Use of Wood and Recognition of Fire Retardant-Treated Wood in the International Codes
Session 10 -
Session 11 - Advanced Enforcement Strategies
Session 12 - Lead and Asbestos
Session 13 - Fire Resistant Construction requirements and UL Resources for Code Officials
Session 14 - Energy Code - Compliance Problems and How to fix them
Session 15 - Maine's New Accessibility: ADA and MUBEC

---
Regulating Vacation Rentals: Workshop Materials
---
Eastern States Building Officials Federation
69th Annual Educational Conference
---
2017 AWC Summer Webinars
---
2017 Code Conference Presentations Available
---
Job Opening - Town of Durham - Code Enforcement Officer
---
Free online course: Flood Provisions of the International Residential Code
FEMA Building Science in partnership with the International Code Council is proud to launch the new online course "Flood Provisions of the International Residential Code" in celebration of Building Safety Month. For a limited time, this course will be available free of charge.
---
Building Safety Month - May 2017 Proclamation
---
Free Maine Septic and Pumping Training - April 4 & 5, 2017
Two live training classes for ENVIROFIN® - Tuesday, April 4th in Brewer & Wednesday, April 5th in Saco. Both classes have registration at 8:30am and will run from 9am-3pm. The classes are provided at no charge we just request that you register before March 31st so we may have an accurate lunch count.
It's an opportunity to learn more about the design and installation of Presby Environmental's newest tool for the septic system tool box "EnviroFin® "!
Dennis Fogg from Presby Environmental will be conducting the training. All attendees will be provided lunch and become certified to design, install or inspect this system.
---
Job Opening - Town of Norway - Code Enforcement Officer
---
Job Opening - City of Biddeford - Electrical Inspector
---
December 2016 Membership Training and Meeting - Mandated Reporting Presentation
to download the presentation.
---
January 2017 MBOIA Newsletter
to download the latest issue of "The Enforcer".
---
Eastern States Building Officials Federation 68th Annual Educational Conference, April 9 - 12, 2017, Newport RI
The program will start Sunday evening with a Rhode Island Night reception for members. An informative educational program is being put together for Monday, Tuesday and Wednesday. These will entail relevant topics with dynamic speakers. Participants will also have the option to register to take ICC exams on Wednesday afternoon.
As soon as all the speakers and their topics have been confirmed, specific conference information will be sent out to everyone. In the meantime, anyone who is planning to attend the conference is encouraged to go to the following link and make a room reservation at our discounted rate.
to make a room reservation.
Any questions should be directed to the ESBOF office at 603-228-1231 or can be directed to
---
MBOIA September 2016 Training/ Meeting Presentation
September 22, 2016 Gray, Maine
---
2016 Code Conference Presentations Available
---
January 2016 MBOIA Newsletter
the January issue of "The Enforcer", the official newsletter of the Maine Building Officials and Inspectors Association

---
Presentation : Official Business Directional Signs - Chip Kelley, Maine DOT
---
---
Energy Code Seminary - Slides and Documents
---
Current issues of International Code Council's ICC eNews, a publication that discusses topics of building safety, fire prevention and sustainability.
---
---
New MBOIA logo: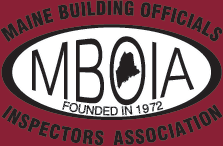 ---