MBOIA July Training / Membership Meeting July 16, 2020
MBOIA invites you to join friends and colleagues at the upcoming Membership Training/Meeting on July 16, 2020. Send in your registration today!
Remote Access: Live Webinar via Zoom; 10:00 a.m. - 11:30 a.m.; Free (Open to MBOIA Members Only)
---
MBOIA 2020 Annual Code Conference - Cancelled
Due to the precautions being taken surrounding the COVID-19 virus, the MBOIA 2020 Annual Code Conference will not be held as scheduled.
---
Job Opening - Town of Brunswick - Code Enforcement Officer
The Town of Brunswick Planning & Development Department is seeking a Code Enforcement Officer capable of working within a team environment as well as individually. This position involves extensive interaction with the public both in the office and in the field. The Code Enforcement Officer is responsible for assisting in the issuing of permits, maintaining records, reviewing plans, interpreting plans and related documents, investigating complaints, answering inquires by phone or in person, and providing staff support to boards and committees.
---
Job Opening - State of Maine - Office of the State Fire Marshal - Public Safety Inspector III
---
Job Opening - City of Portland - Code Enforcement Officer - Electrical
Permitting and Inspections Department - Seeking a full-time employee to join a growing, dynamic team to enhance the city's quality of life and building stock by enforcing the electrical, plumbing, zoning and the Maine Uniform Building and Energy Codes (MUBEC) and city ordinances. In partnership with various regulatory agencies, this code enforcement officer (electrical) will share the responsibilities to enforce uniform construction practices, compliance with national electrical codes, and applicable building safety codes through field inspections and plan reviews. This position receives continual training and will meet state certification requirements. The ideal candidate for this position must possess outstanding customer service and communication skills. Experience in building trades, interpreting building plans, general inspection work with a high school diploma, preferably supplemented by courses in structural, design, architecture, fire science technology, or equivalent combination of experience and training is required. Familiarity with various computer software programs including electronic plan review and laptop/ field tablet equipment is a plus. The candidate will report directly to the Permitting Manager. Candidate must possess a valid State of Maine Master Electrician License, Class C driver's license and a personal vehicle available for work use. The preferred candidate will have State of Maine Certification in legal issues and techniques; internal plumbing; subsurface wastewater disposal; land use; and building, energy, and ventilation standards, or ability to obtain within 6 months of hire. Offers of employment are contingent upon completion of satisfactory criminal conviction background check. Starting pay rate $889.88/week. Additional 3% stipend for possessing a current Maine Master Electricians License.
For more information including instructions on how to apply, please see the recruitment brochure at: .
---
2019 MUBEC Code Training Opportunities
MBOIA is co-sponsoring with the Maine State Fire Marshal's office to offer certified training for code officials in the following topics. These will all provide full day training credits. These workshops are intended for CEO's, builders and design professionals.
.
.
.
---
Job Opening - City of Portland - Director of Permitting and Inspections
Permitting & Inspections Department - Search Extended - The City of Portland is seeking a highly motivated, dynamic, skilled individual to direct the operations of a one-stop permitting, licensing and inspections department. This department includes permitting, zoning, inspections, business licensing, and housing safety. The Department Director will build on prior work to improve the overall customer experience by continuing the development, implementation and evaluation of processes and protocols to increase efficiency and effectiveness. The successful candidate will have considerable knowledge of best practices in municipal permitting, licensing and inspections functions; significant management experience (at least 10 years, with at least 5 years in a senior management role) in complex environments, particularly with process development and evaluation as well as staff training and development; demonstrated experience with budget development and management; strong communication skills and the ability to collaborate with diverse groups; as well as the ability to learn quickly with a positive attitude. Bachelor's degree from a college or university required, with a master's degree preferred. Candidates with any combination of experience, education and training that provides the requisite skills will be considered.
For more information including instructions on how to apply, please see the recruitment brochure at: .
---
Job Opening - Town of Hampden - Code Enforcement Officer/ Local Plumbing Inspector
The Town of Hampden is currently hiring a Code Enforcement Officer/ Local Plumbing Inspector. .
---
Job Opening - Town of Hampden - Firefighter/ EMT
The Town of Hampden is currently hiring a Firefighter/ EMT. .
---
Job Opening - City of Rockland - Assistant Code Enforcement Officer
The City of Rockland, Maine is accepting applications for the position of ASSISTANT CODE ENFORCEMENT OFFICER. This is a full-time salaried position in the Code Enforcement Department. Responsibilities include assisting the public and ensuring compliance with Rockland's zoning ordinances and Property Maintenance Code, issuing and inspection of plumbing, electrical and sign permits, inspection of rental housing, commercial license inspections and other Code Enforcement duties as directed by the Code Enforcement Officer. Ability to communicate well, both orally and written is essential. Applicants with knowledge of construction and building codes, electrical and plumbing codes and/or Code Enforcement experience are encouraged to apply. Applicant must be certified by State of Maine (SPO) in all aspects of Code Enforcement, including Building Standards, Shore land Zoning, Land Use, Internal Plumbing, External Plumbing (SSWS) and Legal Issues. Applicant must possess a valid driver's license. A job description and application are available on the City's website .
Applications will be accepted until a suitable candidate is found.
---
Job Opening: Planning Department Code Enforcement Officer, Town of Scarborough, Maine
The Town of Scarborough Planning and Code Enforcement Department is seeking an additional full-time Code Enforcement Officer to round out our Code Enforcement Team that currently consists of our Zoning Administrator and two Code Enforcement Officers. Scarborough has a significant level of development and construction activity, and our building codes and land use requirements are contemporary and comprehensive. Given this, the Planning and Code Enforcement team is looking for an individual who enjoys a fast-paced work environment, is enthusiastic and energetic, and works well with the public, to complete our team.
---
Presentation from Alpha One's Maine Accessibility Training in Brewer
Download slides from Alpha One's Maine Accessibility Training presentation in Brewer with MBOIA On September 19, 2018.
---
Coming Soon: 2018 MBOIA Code Conference Presentations
Session 1 - Firestopping
Session 2 - CEO Leadership
Session 3 - Design and Construction of Code Compliant Stairways
Session 4 - Development in the Flood Hazard Area
Session 5 - Tall Wood Structures, Outcome of ICC Tall Wood Ad hoc committee, 2015 WFCM Significant changes
Session 6 -
Session 7 - Design and Construction of Code Compliant Stairways
Session 8 -
Session 9 - Use of Wood and Recognition of Fire Retardant-Treated Wood in the International Codes
Session 10 -
Session 11 - Advanced Enforcement Strategies
Session 12 - Lead and Asbestos
Session 13 - Fire Resistant Construction requirements and UL Resources for Code Officials
Session 14 - Energy Code - Compliance Problems and How to fix them
Session 15 - Maine's New Accessibility: ADA and MUBEC

---
Regulating Vacation Rentals: Workshop Materials
---
2017 AWC Summer Webinars
---
2017 Code Conference Presentations Available
---
Free online course: Flood Provisions of the International Residential Code
FEMA Building Science in partnership with the International Code Council is proud to launch the new online course "Flood Provisions of the International Residential Code" in celebration of Building Safety Month. For a limited time, this course will be available free of charge.
---
Building Safety Month - May 2017 Proclamation
---
Free Maine Septic and Pumping Training - April 4 & 5, 2017
Two live training classes for ENVIROFIN® - Tuesday, April 4th in Brewer & Wednesday, April 5th in Saco. Both classes have registration at 8:30am and will run from 9am-3pm. The classes are provided at no charge we just request that you register before March 31st so we may have an accurate lunch count.
It's an opportunity to learn more about the design and installation of Presby Environmental's newest tool for the septic system tool box "EnviroFin® "!
Dennis Fogg from Presby Environmental will be conducting the training. All attendees will be provided lunch and become certified to design, install or inspect this system.
---
Job Opening - Town of Norway - Code Enforcement Officer
---
Job Opening - City of Biddeford - Electrical Inspector
---
December 2016 Membership Training and Meeting - Mandated Reporting Presentation
to download the presentation.
---
January 2017 MBOIA Newsletter
to download the latest issue of "The Enforcer".
---
Eastern States Building Officials Federation 68th Annual Educational Conference, April 9 - 12, 2017, Newport RI
The program will start Sunday evening with a Rhode Island Night reception for members. An informative educational program is being put together for Monday, Tuesday and Wednesday. These will entail relevant topics with dynamic speakers. Participants will also have the option to register to take ICC exams on Wednesday afternoon.
As soon as all the speakers and their topics have been confirmed, specific conference information will be sent out to everyone. In the meantime, anyone who is planning to attend the conference is encouraged to go to the following link and make a room reservation at our discounted rate.
to make a room reservation.
Any questions should be directed to the ESBOF office at 603-228-1231 or can be directed to
---
MBOIA September 2016 Training/ Meeting Presentation
September 22, 2016 Gray, Maine
---
2016 Code Conference Presentations Available
---
January 2016 MBOIA Newsletter
the January issue of "The Enforcer", the official newsletter of the Maine Building Officials and Inspectors Association

---
Presentation : Official Business Directional Signs - Chip Kelley, Maine DOT
---
---
Energy Code Seminary - Slides and Documents
---
Current issues of International Code Council's ICC eNews, a publication that discusses topics of building safety, fire prevention and sustainability.
---
---
New MBOIA logo: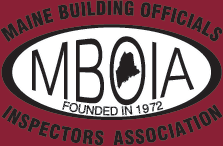 ---