MBOIA's July Training / Membership Meeting - 7/19/18
Time: Training 9:00 am - 12:00 pm | Business Meeting 1:00 pm
Cost: Members: Pre-Registration fee $20.00 | Door Registration fee (after 7/9/18) $30.00 | Non-members: Pre-Registration fee $30.00 | Door Registration fee (after 7/9/18) $50.00
Speakers: Shenna Bellows, District 14 Senator; Jonathan Pottle, Eaton Peabody; Debby Willis, Chair of Planning Board and Ordinance Review Committee, City of Gardiner
|
---
MBOIA's 2018 Northern Chapter Training - 6/20/18
Location: Brewer Public Works, 21 Green Point Road, Brewer, Maine
Time: 8:00 am - 4:00 pm
Cost: Pre-Registration Fee: $20.00 per person
Instructor(s): Brent Lawson, State Plumbing Inspector and Master Plumber
|
---
Job Opening: Code Enforcement Officer, City of Augusta, Maine
---
Regulating Vacation Rentals: Workshop Materials
---
Eastern States Building Officials Federation
69th Annual Educational Conference
---
Job Opening - Town of Old Orchard Beach - Code Enforcement Officer
---
MBOIA's 2018 March Training and Membership Meeting - 3/29/18
Location: Sunday River Grand Summit Resort Hotel and Conference Center, Newry
Time: Registration and Social Hour: 9:00 | Workshop 10:00 - 1pm
Cost: Varies (see brochure)
Instructor(s): Varies (see brochure)
|
---
2018 Legislative Breakfast Feburary 1, 2018 in Augusta
Location: Senator Inn and Spa - Augusta
Time: Breakfast: 7:00 - 9:30 am
Cost: No charge for this event
Instructor(s): Members of MFCA, Maine Fire Protection Services Commission, Maine State Federation of Fire Fighters, Professional Fire Fighters of Maine and the MBOIA
---
Job Opening - Town of Durham - Part-Time Code Enforcement/Zoning Officer
The Town of Durham is seeking a reliable, responsible person to fill a part time position of Code Enforcement/Zoning Officer under the direct supervision of the Zoning Administrator/Code Official. The position will average 20 hours per week throughout the year with early morning and weekend shifts required. The focus of the code enforcement activity will be related to trash, parking, and occupancy issues in the downtown core and nearby neighborhoods or as otherwise directed based on the needs of the Town, as found in Durham's Town Ordinance.
---
Job Opening - Full Time Code Enforcement Officer - Town of Lebanon
The Town of Lebanon has a full time opening for Code Enforcement Officer. The Code Enforcement Officer is responsible for issuing building, plumbing, floodplain management, land use, sign and demolition permits; conducting land use, building and plumbing inspections; enforcing municipal ordinances; maintaining liaison with appropriate state and local agencies; assigning street names and addresses and maintaining office records and reports. Knowledge of Health Officer and E911 Addressing Officer duties are helpful. Experience and State Certifications highly desirable. For full job description contact the Selectman's Office at 457-6082. You may submit resume and cover letter to: selectmen@lebanonmaine.org or at the Town Office located at 15 Upper Guinea Road Lebanon, Maine.
---
Job Opening - Full Time Assistant Code Enforcement Officer/Building Inspector - Town of Gorham
The Town of Gorham is accepting applications for the position of Assistant Code Enforcement Officer/Building Inspector in the Code Enforcement Department.
The Assistant Code Enforcement Officer/Building Inspector is responsible for the inspection of construction on new and existing buildings, including septic, electrical, plumbing, and the Maine Uniform Building and Energy Code (MUBEC) to ensure conformance with Town codes and ordinances. Duties also include the maintenance of records, preparation of correspondence, resolution of complaints, and the issuance of permits. The employee in this position must possess outstanding customer service and communication skills and a working knowledge of building construction and design, building, zoning, plumbing, electrical and other relevant codes. A high school diploma and a valid Maine driver's license are required. A State of Maine Code Enforcement Certification or the ability to obtain certification is required.
---
October 20, 2017 - Basic Plumbing for Water and Wastewater Personnel
This course will be an introduction to understanding the core plumbing installation principles for protecting the public health and safety. Topics covered include the important concepts regulated by the State of Maine Plumbing Code, such as, understanding the importance of backflow prevention and cross connection for protecting the potable water systems, indirect waste systems, drainage and venting system sizing, trap seal protection and energy conservation in plumbing designs.
---
2017 MUBEC Code Training - IBC, IEBC
MBOIA is co-sponsoring with the Department of Economic and Community Development/Maine State Fire Marshal's office to offer ICC certified training for code officials in the following topics and locations. These will all provide full day training credits. This is intended for CEO's, builders and design professionals.
Register:








---
Job Opening - Associate Code Enforcement Officer - City of Saco and Town of Old Orchard Beach (shared position, full-time)
The City of Saco and Town of Old Orchard Beach are seeking applicants for the position of Associate Code Enforcement Officer. This is a shared position between the two municipalities with roughly an equal number of hours spent in each municipality. For qualifications and duties sought, please read the attached job description. A complete application will include the completed application, letter of intent, resume, and references. Please contact MaryLou Kadlik, Human Resources Director, with any questions at (207)710-5037 or HR@sacomaine.org
---
Job Opening - Town of Lamoine - Code Enforcement Officer (CEO) and Local Plumbing Inspector (LPI)
The Town of Lamoine seeks an individual to serve this beautiful and vibrant Hancock County community as its Code Enforcement Officer (CEO) and Local Plumbing Inspector (LPI). Details of the job are posted on the Town of Lamoine's website (www.lamoine-me.gov). Salary is negotiable depending on qualifications. Candidates are asked to submit a letter of application, resume and salary expectation to the "Town of Lamoine, Board of Selectmen, 606 Douglas Highway, Lamoine ME 04605 Attn: CEO Search" - no later than Thursday, September 14, 2017. Questions regarding the position may be addressed to Stuart Marckoon, Administrative Assistant to the Board of Selectmen (207) 667-2242 or town@lamoine-me.gov
---
Job Opening - City of Waterville - Code Enforcement Officer
---
2017 AWC Summer Webinars
---
2017 Code Conference Presentations Available
---
Job Opening - Town of Durham - Code Enforcement Officer
---
Free online course: Flood Provisions of the International Residential Code
FEMA Building Science in partnership with the International Code Council is proud to launch the new online course "Flood Provisions of the International Residential Code" in celebration of Building Safety Month. For a limited time, this course will be available free of charge.
---
Building Safety Month - May 2017 Proclamation
---
Free Maine Septic and Pumping Training - April 4 & 5, 2017
Two live training classes for ENVIROFIN® - Tuesday, April 4th in Brewer & Wednesday, April 5th in Saco. Both classes have registration at 8:30am and will run from 9am-3pm. The classes are provided at no charge we just request that you register before March 31st so we may have an accurate lunch count.
It's an opportunity to learn more about the design and installation of Presby Environmental's newest tool for the septic system tool box "EnviroFin® "!
Dennis Fogg from Presby Environmental will be conducting the training. All attendees will be provided lunch and become certified to design, install or inspect this system.
---
Job Opening - Town of Norway - Code Enforcement Officer
---
Job Opening - City of Biddeford - Electrical Inspector
---
December 2016 Membership Training and Meeting - Mandated Reporting Presentation
to download the presentation.
---
January 2017 MBOIA Newsletter
to download the latest issue of "The Enforcer".
---
Eastern States Building Officials Federation 68th Annual Educational Conference, April 9 - 12, 2017, Newport RI
The program will start Sunday evening with a Rhode Island Night reception for members. An informative educational program is being put together for Monday, Tuesday and Wednesday. These will entail relevant topics with dynamic speakers. Participants will also have the option to register to take ICC exams on Wednesday afternoon.
As soon as all the speakers and their topics have been confirmed, specific conference information will be sent out to everyone. In the meantime, anyone who is planning to attend the conference is encouraged to go to the following link and make a room reservation at our discounted rate.
to make a room reservation.
Any questions should be directed to the ESBOF office at 603-228-1231 or can be directed to
---
MBOIA September 2016 Training/ Meeting Presentation
September 22, 2016 Gray, Maine
---
2016 Code Conference Presentations Available
---
January 2016 MBOIA Newsletter
the January issue of "The Enforcer", the official newsletter of the Maine Building Officials and Inspectors Association

---
Presentation : Official Business Directional Signs - Chip Kelley, Maine DOT
---
---
Energy Code Seminary - Slides and Documents
---
Current issues of International Code Council's ICC eNews, a publication that discusses topics of building safety, fire prevention and sustainability.
---
---
New MBOIA logo: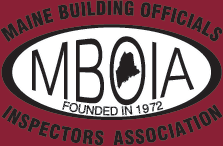 ---