Job Opening: Town of Orono - Code Enforcement Officer
The Town of Orono is seeking qualified applicants for the full-time position of Code Enforcement Officer. This is a highly responsible professional position expected to work both independently and with Town colleagues, regulators, contractors, and the general public to educate and ensure compliance with various State laws, Town Ordinances, permits, and professional codes. The ideal applicant is motivated, thrives in a collaborative environment, thinks strategically, has strong interpersonal communication, technical writing, customer service skills, and the ability to work effectively with both the public and private sector.
Work is performed under the general direction of the Director of the Office of Community Development and in accordance with prevailing policies, laws, regulations and rules applicable to specific areas of codes, approved plans and permits. This position performs both field work and office work.
Minimum Qualifications
Applicants must have a working knowledge and understanding of municipal zoning, shoreland zoning, stormwater program management within a MS4 community and experience in building/construction trades. Candidates must be certified as a Code Enforcement Officer (CEO) and Local Plumbing Inspector (LPI) and have maintained continuing education in current Maine Uniformed Building and Energy Code, National Electrical Code, Uniformed Plumbing Code and NFPA Life Safety Code since certification.
Apply online at www.orono.org. Applicants must upload a cover letter detailing how you meet the qualifications and a resume. Applications without a cover letter and/or a resume will be considered incomplete and may be rejected without further consideration. The application window remains open until the position is filled.
---
MBOIA 2020 Annual Code Conference - Cancelled
Due to the precautions being taken surrounding the COVID-19 virus, the MBOIA 2020 Annual Code Conference will not be held as scheduled.
---
Presentation from Alpha One's Maine Accessibility Training in Brewer
Download slides from Alpha One's Maine Accessibility Training presentation in Brewer with MBOIA On September 19, 2018.
---
Coming Soon: 2018 MBOIA Code Conference Presentations
Session 1 - Firestopping
Session 2 - CEO Leadership
Session 3 - Design and Construction of Code Compliant Stairways
Session 4 - Development in the Flood Hazard Area
Session 5 - Tall Wood Structures, Outcome of ICC Tall Wood Ad hoc committee, 2015 WFCM Significant changes
Session 6 -
Session 7 - Design and Construction of Code Compliant Stairways
Session 8 -
Session 9 - Use of Wood and Recognition of Fire Retardant-Treated Wood in the International Codes
Session 10 -
Session 11 - Advanced Enforcement Strategies
Session 12 - Lead and Asbestos
Session 13 - Fire Resistant Construction requirements and UL Resources for Code Officials
Session 14 - Energy Code - Compliance Problems and How to fix them
Session 15 - Maine's New Accessibility: ADA and MUBEC

---
2017 Code Conference Presentations Available
---
Free online course: Flood Provisions of the International Residential Code
FEMA Building Science in partnership with the International Code Council is proud to launch the new online course "Flood Provisions of the International Residential Code" in celebration of Building Safety Month. For a limited time, this course will be available free of charge.
---
Building Safety Month - May 2017 Proclamation
---
Job Opening - Town of Norway - Code Enforcement Officer
---
Job Opening - City of Biddeford - Electrical Inspector
---
December 2016 Membership Training and Meeting - Mandated Reporting Presentation
to download the presentation.
---
January 2017 MBOIA Newsletter
to download the latest issue of "The Enforcer".
---
Eastern States Building Officials Federation 68th Annual Educational Conference, April 9 - 12, 2017, Newport RI
The program will start Sunday evening with a Rhode Island Night reception for members. An informative educational program is being put together for Monday, Tuesday and Wednesday. These will entail relevant topics with dynamic speakers. Participants will also have the option to register to take ICC exams on Wednesday afternoon.
As soon as all the speakers and their topics have been confirmed, specific conference information will be sent out to everyone. In the meantime, anyone who is planning to attend the conference is encouraged to go to the following link and make a room reservation at our discounted rate.
to make a room reservation.
Any questions should be directed to the ESBOF office at 603-228-1231 or can be directed to
---
MBOIA September 2016 Training/ Meeting Presentation
September 22, 2016 Gray, Maine
---
2016 Code Conference Presentations Available
---
January 2016 MBOIA Newsletter
the January issue of "The Enforcer", the official newsletter of the Maine Building Officials and Inspectors Association

---
Presentation : Official Business Directional Signs - Chip Kelley, Maine DOT
---
---
Energy Code Seminary - Slides and Documents
---
Current issues of International Code Council's ICC eNews, a publication that discusses topics of building safety, fire prevention and sustainability.
---
---
New MBOIA logo: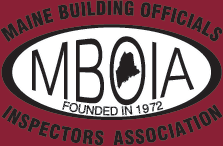 ---